When Australian actor Chris Hemsworth got the call to say he'd landed the role as 70's British Formula 1 racing champion James Hunt in Rush he was in the middle of filming the first of his Thor movies, The Avenger.
Thor of course is the magnificently muscled, immensely powerful, larger than life god of thunder and lightening.  The guy whose mighty hammer-wielding rampages cause bolts of lightening and booms of thunder to reverberate across the heavens.
James Hunt on the other hand was a 175 pound, 6'1" mortal.  A famous mortal but a mere mortal nevertheless.
So Chris Hemsworth quite obviously was faced with a weight loss dilemma.  Namely how to go from weighing 215 pounds to at least 185 pounds to play the British racing champ.  In the space of 4 months!
Chris Hemsworth Diet For Rush Vastly Different To His Thor Workout And Diet
As history will record, he managed it.  But only by immediately launching himself into an exercise and diet regimen to put the brakes on the muscle building effects of his mighty Thor workout and diet regime.
How Chris Hemsworth Reduced Muscle For Rush
Chris Hemsworth had to lose muscle, 30 pounds of it fast, which he did by cutting right back on his calorie intake.  Two of the main components in a muscle building diet are protein and carbohydrates.  Reducing or removing these from the diet and replacing them with other types of foods, like vegetables, is a highly effective way of slowing muscle development.  Especially when combined with the right type of exercise.  Chris also recommends drinking a lot of water, not just to rehydrate but also to 'fill up'.
Chris Hemsworth Workout And Diet For Rush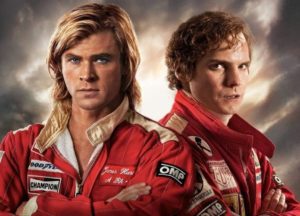 For Rush Chris Hemsworth's workout routine changed from weight training to more cardio workouts instead.  That meant a lot of running, which Chris admits he doesn't enjoy doing, in order to sweat weight off.
To support his new exercise routine and ensure he shed the required muscle mass, the new Chris Hemsworth diet contained virtually no proteins or carbs.  These were replaced by a whole lot of fruit and vegetables such as mushrooms, spinach, bok choy, corn, green beans and bell peppers.  Stir-fry anyone?  He also threw in a few eggs, plenty of yogurt, a couple of coconut pancakes for breakfast each day and drank literally liters of water.  Snacks consisted of fruit only.  Somewhere in there he allowed himself one cup of black coffee as well!
Chris Hemsworth Before And After Rush
Did the new Chris Hemsworth workout and diet work?
Chris Hemsworth, before and after he modified his diet and workout regime, weighed 215 pounds and 185 pounds respectively so yes, it did work.  His reduced bulk also meant he was just able to fit into the racing car used for the movie.  James Hunt, the racing driver he was portraying, weighed only 175 pounds and stood several inches shorter.
The Chris Hemsworth Thor Diet Round 2
Having to cut so much weight and muscle mass for Rush was bad enough but once filming was over, Chris had another Marvel Universe mission to undertake.  That meant it was back to the Chris Hemsworth Thor diet to put back on the muscle he'd just gone to such pains to get rid of.  If that sounds like something not for the fainthearted you'd be spot on!  So it was back to protein and carbs, and plenty of it.  Along with plenty of broccoli and other vegetables, eggs, rice, oatmeal, dairy and so on.
The Chris Hemsworth Workout Round 2
Along with adjusting his diet to start rebuilding muscle mass, it was also back to weightlifting and good old-fashioned Arnie style bodybuilding.  Those awesome Thor-like Chris Hemsworth abs and pecs needed to make a triumphant comeback for a second deployment in the Marvel universe.
Chris Hemsworth On Rebuilding Those Abs
Chris has been interviewed several times about his amazing Thor – Hunt – Thor body reversal, which all happened in the space of a year incidentally.  As he explains, beefing up again after drastically cutting weight and muscle mass for Rush involved plenty of functional training and he spent an hour or two in the gym every day.
His bodyweight exercises and circuits included the fundamental, ever reliable weight and muscle building staples like pull-ups, chin-ups, sit-ups, box jumps, squats plus plenty of workouts with barbells.  He also included some CrossFit work in the routine and did time with kettlebells for their cardio and weightlifting benefits.
The Thor movies also abound with fight scenes, as is to be expected in a movie about a super hero saving the world from the bad guys and forces of evil.  To get the suppleness and agility required to pull these off convincingly Chris mixed boxing and Muay Thai training into his weightlifting and cardio training.
And of course there were the HAMMER CURLS!
Who Is Chris Helmsworth?
And that's Hemsworth, Chris Hemsworth, not Helmsworth by the way….